What is the Best Free SEO Plugin?
The SEO Framework is now the best free SEO Plugin for 2019. That is a huge claim so I guess we better justify it. This plugin might not do everything that the big wigs in the WordPress SEO space do but it is not far off. Install it now but continue reading if you want our justifications for this claim. At the time of writing The SEO Framework has had 90,000+ active installs, 800,000+ downloads 190+ five star reviews. So the plugin has well and truly moved past the untested phase of plugin development and moved into stable release. To make it easier to find what plugin a site is using, we will be adding a plugin finder to WordPress Theme Detector very soon.
1. the SEO Framework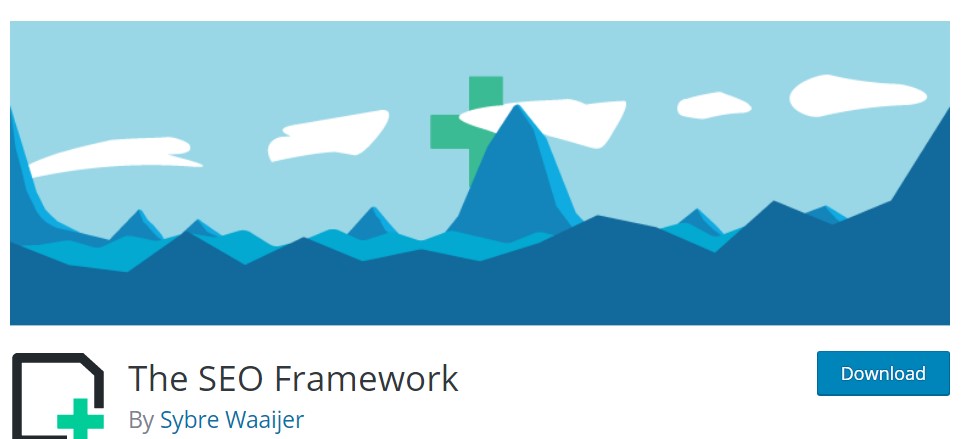 What do we like about the SEO Framework? It works well and it works every time. The reliability of this plugin is something that we haven't encountered in a long time in the WordPress world. We have tested this plugin by installing multiple different themes onto our test bed and many different plugins that have clashed with other SEO plugins and have not managed to make the website fall over. This is something we cannot say about almost any other SEO plugin we have tested. So if lack of plugin conflicts is important to you then use this plugin. If not then you need to change your attitude to conflicts.
This plugin is so lightweight the test site hardly knew it was there. Modern plugins tend to be bloated with ads, premium upgrades and nonsensical functionality. Sybre Waaijer the author has a personal philosophy of sticking to what is functional. He is well known and respected in the WordPress community, not just for this plugin but the many projects he has had a hand in.
Just because it's lightweight doesn't mean it hasn't got most of not all features you would want in an SEO plugin. Like most good SEO plugins it can be left to its own devices. It can be left in fully automated mode. Just install and forget. The AI that has been built into the plugin saves so much time. It tweaks pages based on WordPress signals and in most situations it does a great job. In auto mode it will enable and optimize breadcrumbs, generate titles and descriptions that follow Google guidelines and has a built in sitemap generator.
The SEO Framework feels like what All in One SEO felt like the first time we encountered it many years ago. I remember installing All in One on client sites and getting an almost instant boost in Google traffic. While those days are gone TSF brings back that feel. There have been a few sites we have installed it on and seen an immediate increase SERP
OK so we have established that The SEO framework is lightweight and automates almost everything but is it customizable? Yes it is. It has all the options that "All in One SEO" and most of options of the free and premium version of "Yoast SEO" but we will talk about this later.
List of some of the customizations:
Title/description
Social media settings
Visibility (nofollow, noindex, canonical, etc.).
Basic schema markup like breadcrumbs and Google sitelinks
The automatically-generated XML sitemap
Social media
variety of free and premium modular extensions
Much more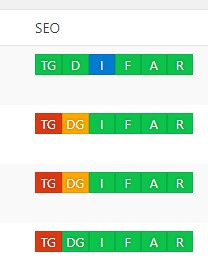 One final feature before move onto the other SEO plugins. The SEO optimization column in the All posts list is so useful and easy to understand. All modern plugins should have quality of life features like this. It makes life easy for us SEO and WordPress professionals but what we really like about it is that clients can look at it and quickly get an understanding of what the possible problem with a post could is. When you have a worried client on the phone it is nice to be able to talk them through looking at this list and slowly make changes that positively affect their SEO.
2. Yoast SEO
Yoast SEO was the former king of the hill when it came to WordPress SEO plugins. We are not even going to bother with download and and install statistics. This is one of the most installed plugins in WordPress history and the reviews are very positive.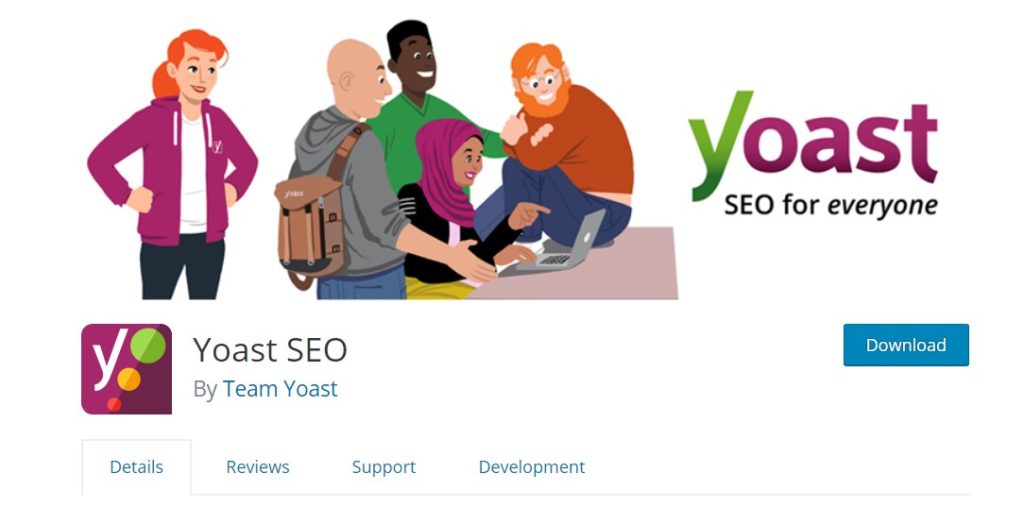 For the longest time this was our go to plugin for SEO. We made all our clients install it and it worked incredibly well. The plugins focus on keyword analysis is what put it above the competition and to be fair, Yoast is still a little better than TSF at this. Yoast actually requires you to enter keywords to target and then formulates an analysis of the post around the entered data. Hardcore SEO types will stick to this plugin and for good reason. If you know what you are doing it takes out a lot of the guess work out of structuring a blog post for optimal SEO results.
Another amazing aspect to the Yoast plugin is the analysis of the readability of the post. Grammar has always been important but with Google improving its AI markedly in the last 5 years this has become more important than ever. Yoast provides color coding for readability and keyword focus which makes it easy to see what aspect of the blog post needs to be worked on.
So why don't we recommend Yoast over TSF? TSF does almost everything that Yoast does and has a few unique aspects of its own. Also ease of use factors heavily in our decision to put TSF over Yoast. However the big thing that has made us move away from Yoast is incompatibility with certain themes and plugins. We have not only seen this on our own websites but many of our clients have reported weird incompatibilities with the Yoast plugin. It is a shame because this plugin is still truly an outstandingly good plugin. The readability and keyword targeting features are a god send but the fact that is bloated out with many unnecessary features and the upgrade to premium is a little intrusive for not a lot of extra value means we really can't recommend it anymore.
3. All in One SEO
Before the Yoast SEO plugin came along All in One SEO reigned supreme in the WordPress SEO plugin space. I vividly remember installing "All in One SEO" to a small niche review site I had built back in 2011 and 8 days later reaching the top of the SERPS for many valuable keywords. This site went from making about US$400/month to US$3000/month and the only thing I did was install this terrific little plugin.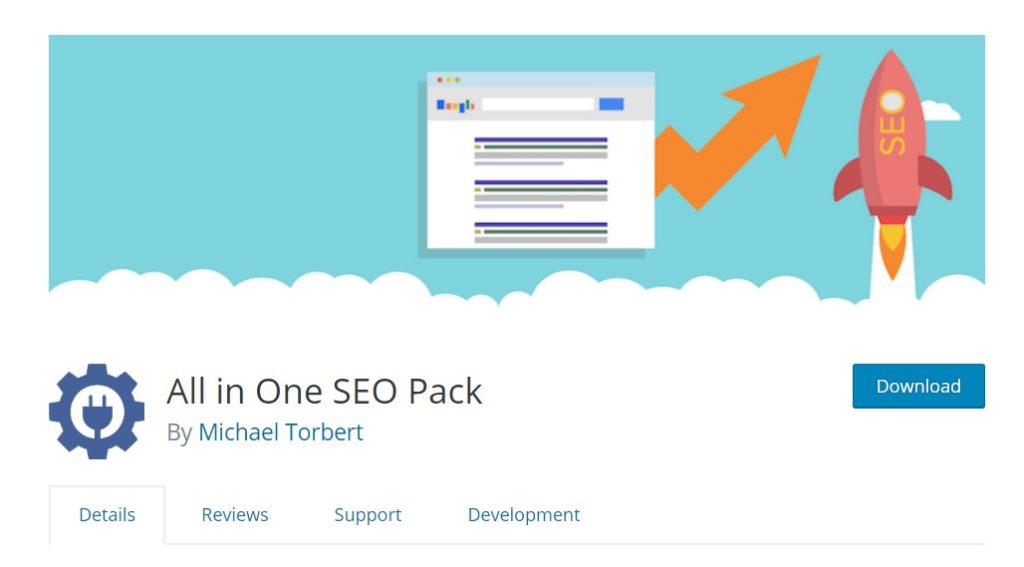 What a revelation that was. I did the same thing to a few other sites with varying success but never as good as that first site. Still it was this plugin that gave me a foothold into the niche website marketing trend at the time and help me build a great business. Those days are now long gone. Because of this I was devoted to this plugin for a very long time, probably to long. It requires much more effort than installing an SEO plugin to get to the top of Google SERPs these days.  Unfortunately this plugin has become long in the tooth. It has no analysis or readability features like Yoast SEO and is not lightweight and nimble and easy to use like The SEO Framework. It is a still a stellar performer and after all these years is still in the top 3 SEO plugins for WordPress.
Like Yoast SEO it is bloated and a little unwieldy and has the annoying upgrade path to a premium version. I could never recommend this plugin over the other 2 mentioned above.
Conclusion
If it isn't obvious by now, we highly recommend The SEO Framework as the dedicated SEO plugin to use on a site. One plugin that we haven't mentioned but we are keeping an eye on is SEOPress. We have heard very good things about it and have installed it on 3 new niche sites to see how effective it is. We will keep you informed of the results.