WordPress.org is still the largest repository of WordPress themes on the web. Themeforest.net is catching up but as it is a premium theme site only there is a natural impediment to growth. While themes with all the bells and whistles are great, most new webmasters are very price sensitive. This is what gives WordPress.org the edge. All themes on this site are free and that is a powerful motivational force for new and expert webmasters alike.
As of the published date, we have used only 4 of the 6 themes that are the core of this article. For the other 2 we have reached out to some of our webmaster friends to give us a run down. We will list likes and dislikes but also give a brief explanation of why we have come to those conclusions.
1. Twenty Twenty
Twenty Twenty is the latest iteration of a theme that started with the iconic theme Twenty Ten. Twenty Ten was so easy to use it quickly became a spammer favourite. It is rumored that back in the day Google would shutdown many illegal blog networks just by looking for this theme.
While twenty twenty maintains that ease of use it has added many new features. It is based on Chaplin a free theme designed by the "Theme Design Lead of WordPress 5.3", Anders Norén. The theme gives you full control of colors and fonts. Which for a free WordPress.org theme is actually quite good. The theme has been optimized for Gutenberg, which as frequent readers here would know we are still not fans of. Don't let this put you off though. It is a powerful theme. Just install the Classic Editor plugin and you are good to go. This theme is fast! Out of the box it will pass most of Google's PageSpeed Insights tests with flying colors. In our initial testing it also does well in Google's new Core Web Vitals in Search Console. So if speed is a requirement for you and it should be. Then this is the theme to be using.
Likes
Render  speed.
Ease of use.
Core Web Vitals adaptability.
Dislikes
2. Twenty Nineteen
Twenty Nineteen comes in second in this list of popular themes. There is a good reason it is second. It is a great optimized theme. Fast and with low maintenance it is a bloggers dream. Once again like Twenty Twenty it is a little over reliant on Gutenberg. In fact if you are considering using  Twenty Nineteen then you might as well just install Twenty twenty instead.
Likes
Render  speed.
Ease of use.
Core Web Vitals adaptability.
Dislikes
Reliance on Gutenberg.
Might as well use Twenty Twenty instead.
Twenty Seventeen
The First thing we need to say is that the blog on WordPress Theme Detector actually runs on a modified version of Twenty Seventeen. Why? For one thing we get a PageSpeed Insights score for mobile value of about 84 and desktop result of about 91. This is for an article page, while the front page can get into the low 90's.

We  do not run any caching software but we do run standard Autoptimize. Just this result makes us love this theme but add to that the ease of use and maintenance and you can't wipe the smile off our dials when thinking about this theme. We have not yet moved the blog to Twenty Twenty because we are still prefer themes that are not overly influenced by Guntenberg. Some initial testing is starting to make us change our minds on this. The numbers are looking good.
Likes
Render  speed.
Ease of use.
Core Web Vitals adaptability.
Ease of maintenance.
Dislikes
Getting a little old now.
Ironically not as easy to use with Gutenberg so not future proof.
Astra
We featured Astra in our Free Alternatives to Avada WordPress Theme and for a good reason. It has excellent SEO integration and comes with Scheme.org implemented natively which is rare for free WordPress themes. It is extremely popular and therefore the publisher has a good incentive to keep it up to date. There are some good themes out there that are unsupported due to lack of popularity. While we don't like AMP, it does come with native AMP straight out of the box. So if this is important to you then Astra is a good theme to consider.
Likes
AMP integration.
Ease of use.
Ease of maintenance.
Dislikes
PageSpeed scores are not as good as the themes above.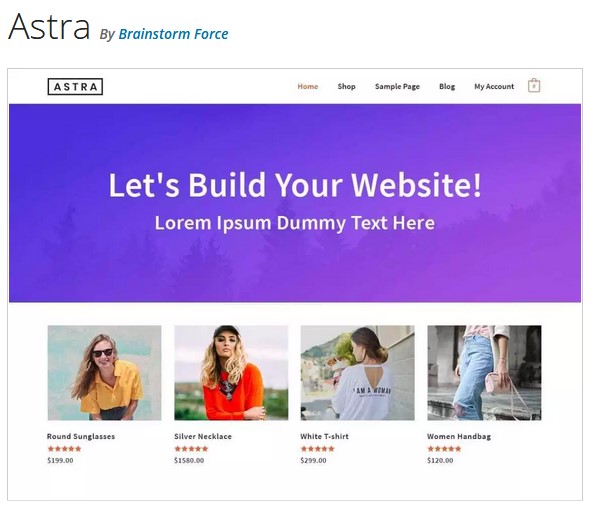 Hello Elementor
Hello Elementor is a wildly popular theme that has been built by the developers who created the Elementor page builder plugin.  If you are a fan of the plugin then you have every reason to be using the Hello Elementor theme. There is seamless integration with the page builder. While not the fastest theme in this review it is the most flexible. This theme can basically look like any website on the web.
Likes
Flexibility.
Competes with most premium themes for features.
Dislikes
OceanWP
OceanWP came in 7th on our list of 10 fastest WordPress Themes. What is unusual about this theme is that it is a full featured theme with 7 free powerful extensions. It builds beautiful websites but also makes them fast. PageSpeed insight scores are usually in the high 70's for mobile and low 90's straight out of the box. An amazing achievement for a theme that can make websites look as good as this theme does.
Likes
Flexibility.
Competes with most premium themes for features.
High PageSpeed Insight scores.
Conclusion
While some of the above themes are getting old now they are still very relevant. Importantly most will build quite fast loading websites and the ones that don't will generally build gorgeous looking websites. OceanWP does both so if we had to recommend just one out of the above list it would be OceanWP.