Are there any Free Alternative Themes to Avada Theme?

The short answer is no but keep reading. Avada is the best selling theme in the history of WordPress for a reason. This theme has been around for seven years now and has been in full and constant development the whole time. The team behind Avada is ThemeFusion and they have mostly concentrated on Avada that whole time. At the time of writing there have been 523,508 sales and at about $60 a sale that means this theme has generated $31,410,480 USD for ThemeFusion. That is why they can concentrate on this theme and make sure that with every update of WordPress the theme will work perfectly. ThemeFusion can afford to make sure all the plugins work perfectly with the theme with every update of WordPress. They can also afford to bundle lots of great third party plugins with the theme itself.
With the kind of income Avada generates Themefusion can also afford to develop many different Demos which form a great base for any new or established websites. As well as using Avada Classic, some of the free demos that come bundled that we have used for our clients are Avada Salon, Avada Gym, Cafe and many more. All have imported perfectly and have maintained stability after every WordPress and plugin update. That is a hard thing to achieve in the WordPress theme space. Developers who make free themes just don't have that monetary incentive that ThemeFusion has so it will be hard for them to keep up.
So what are the Free Alternatives to Avada in 2019?
As we have pointed out above technically there are no free alternatives to Avada but there are some great free themes in their own right. the ones we are featuring here are all from WordPress.org but there are some great alternative free themes to the ones on WordPress.org out there but we cover them in another article. The themes below are in no particular order, all five will work great for you and all are responsive.
1. Avant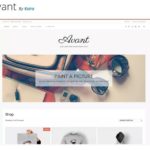 Even though we have said we aren't putting these themes in any order Avant is easily one of our two favourite free themes of all time.  The other theme being Twenty Seventeen which will not make it onto this list. An explanation of this will come later. Why do we like Avant? It has an Avada feel while obviously not being Avada. It has great SEO settings and often we won't bother with a dedicated SEO plugin when using this theme. It has five blog layouts,  Seven header layouts and three footer layouts. Which gives you 105 different variations, a surprising amount for a free theme. It works well with WooCommerce and is a great platform to build a eCommerce store around. It also works extremely well with page builder plugins like Elementor and SiteOrigin's Page Builder.
2. Futurio
Futurio is  a great theme that we have had a lot of success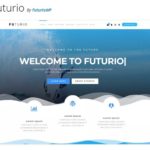 with. It is lightweight, very customizable and fast. With a little tweaking we have managed to get Google PageSpeed insights scores in the high 80s for sites using this theme. This was achieved on a cheap server. the theme works well with all the page builder plugins like Elementor, Gutenberg and Visual Composer. Every SEO plugin we have used has worked well with it and so have all the caching plugins.  In fact all the major WordPress plugins like Contact Form 7, jetpack and WooCommerce work well with it. Definitely a great theme to try out.
3. Hestia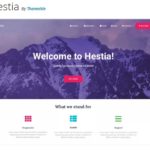 has been around a few years now but is still one of the best free WordPress themes on WordPress.org. At the time of writing Hestia has 100,000+ downloads and for good reason. This theme like Avant above is trying to be somewhat Avada like. It is aimed at creatives, small business and startups but can be used for any small standalone website. It is also great for one page sales landing pages. Like the others above it works perfectly with all the most popular plugins and page builders. Hestia is SEO friendly and works well with parallax sliders. While it is not as customizable as Avant, it is still very flexible and can be used for many different industry websites.
4. Astra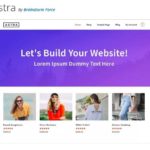 Astra is an extremely popular theme with 300,000+ downloads and for good reason. It has excellent SEO integration and comes with Scheme.org implemented natively which is rare for free WordPress themes. One thing we don't like about the theme but will probably be appreciated by most installers is that the theme comes with AMP native integration. We don't like AMP because we like to be in control of our content but for most people AMP is a good idea. Astra is also fast loading and lightweight. like the others mentioned in this list it works well with all the page builders and we haven't come across a popular plugin it hasn't worked with.
5. Shapely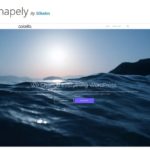 Even though we kept Shapely for the last in this list it is by no means the least. This theme is awesome and while not Avada like it is definitely only a few steps away from being a good premium theme. Customization is this themes middle name and has beautiful base design that can be built up with plugins and page builders to make an extremely good looking website. We have used this theme for landing pages, business sites , portfolios, eCommerce stores, local business sites and with a little tweaking we have used them on personal blogs, magazine sites and tech sites. Once again as all the themes in this list it is SEO friendly and responsive. It makes mobile sites look the best of any in this list although it is a bit heavier and slower than most of the others.
Honourable Mention
Above we mentioned how Twenty Seventeen didn't make this list. Why? We love this theme the most of any free theme we have ever used but it is not on this list because it is not for everyone. We use Twenty Seventeen on this site but we have customized it heavily and use it headless WordPress to run the article list on the front page. Twenty Seventeen is powerful because it is so simple and easily modifiable yet still has some nice default touches.
If after all of this you still don't know what theme you want to use but know a good site that has a theme you might like use our WordPress theme detector to find the theme and try it.